AMERICAN

ARGENTINE

BARBECUE

BREW PUBS

CAJUN

CANYON DINING

CHINESE

COFFEE HOUSES

COSMOPOLITAN / ECLECTIC

FRENCH

GREEK

INDIAN

ITALIAN

JAPANESE / SUSHI

MEXICAN

MICRO BREWERIES

MIDDLE EASTERN

PARK CITY RESTAURANTS

SEAFOOD

STEAK HOUSES

SUSHI

THAI

VEGETARIAN RESTAURANTS

VIETNAMESE

ALPHABETICALLY LISTED


SALT LAKE CHILD FRIENDLY RESTAURANTS

SALT LAKES BEST BREAKFAST & BRUNCH

BEST DELI's & SUB SANDWICHES IN SALT LAKE CITY

THE BEST BURGERS IN SALT LAKE CITY

THE BEST PIZZA IN SALT LAKE CITY

THE BEST PHILLY CHEESESTEAKS IN SALT LAKE CITY

DOWNTOWN SALT LAKE RESTAURANTS

SUGARHOUSE RESTAURANTS

SALT LAKE VALLEY RESTAURANTS

SANDY UTAH RESTAURANTS

SALT LAKE CATERING FIRMS

BEST of SALT LAKE'S BUFFET'S

NEW & NOTEWORTHY

SALT LAKE CITY DINE O' ROUND

CHICAGO DOG'S in SALT LAKE CITY

SALT LAKE'S BEST RESTAURANTS OPEN ON SUNDAYS

THE BEST OF SALT LAKE'S PATIO DINING

SALT LAKE'S DINNER & DANCE CLUBS

SALT LAKE CITY VISITOR INFORMATION

SALT LAKE CITY SKI INFO

SALT LAKE CITY HOTELS

VISIT PARK CITY





Information for Utah Restaurant Owners: Alcohol training and education seminars that are required by the State of Utah State Required Training Seminars


Salt Lake City Pizzas Joints

Taste the Culinary Treasures of Salt Lake City's Best Pizza.





The Best Pizza in Salt Lake City, Who Makes It? That's a subject for open discussion and a matter of opinion. Everyones got their favorite for one reason or another. Mine, It's New York Pizza! A slice at almost any pizza joint in the city or out on the island is tops compared to anywhere in the US. Why? It's Da Water! Now, you take a Chicago resident, or transplant, and you know they are gonna say, It's Chicago Pizza, without a doubt!

Things have changed here in the valley during the last twenty-five years. And better pizza is one of them! Maybe not exactly right there with New York or Chicago, but it's really close. Here are some of our favorites for the best pizza in Salt Lake...


Maxwells in Park City. A few years back I had a slice of the Best New York Style Pizza made in Utah. And it's not even in Salt Lake! It's up at the Newpark Hotel property at the Junction in Park City at an Italian restaurant called Maxwells. Skeptical at first, I have tried so many, but Wow, a slice is massive in size and thin as a New York Slice should be. Oh Soooooo Good!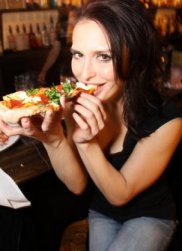 Best New York Style Pizza in Utah, Maxwells in Park City, Located in the Kimball Junction area of Park City, just east of the Olympic Park Complex at 1456 New Park Blvd, right at the Newpark Hotel Resort. Very close to the I-80 exit, so you don't have to venture into town.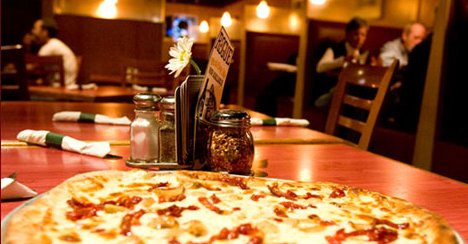 Salt Lake Pizza & Pasta
"Salt Lake Pizza and Pasta: A Slice of Heaven" - Salt Lake Trib
Located in historic Sugar House, this casual eatery features specialty salads, pizzas and fresh pasta specials daily. Private, cushioned booths and televisions tuned to sports channels make this a great place for lunch or a casual dinner.
Child Friendly! - Have dinner after a day of shopping in the area, and bring the kids, they will love what is on our menu for them. For adults who want more, Salt Lake Pizza & Pasta carries a variety of local micro-brews along with imported beers, wine and liqour. This is truly a restaurant that must be visited." - DC Dining Guide
Open Seven Days A Week
1063 East 2100 South - 801.484.1804
4 Miles from Downtown, Travel Time: 10 to 15 minutes






Big Apple Pizza & Pasta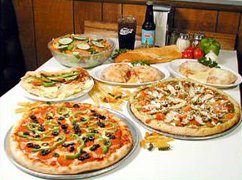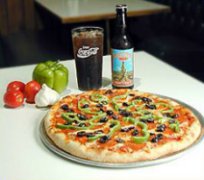 New York style pizza - Thin crust, hand-thrown pizza topped with our signature pizza sauce, delicious whole milk mozzarella & romano cheeses, and your choice of the finest quality toppings.
Open Seven Days A Week
2939 East 3300 South - 801.485.4534
11 Miles from Downtown, Travel Time: 15 to 20 minutes










Sometimes you just gotta have a big slice of New York style pizza. These are where you get the Best Pizza in Salt Lake City.



Visitors